Happy Summer!
July is practically here, which means we're at the peak of the summer season! Hopefully, you are already soaking up every minute of the longer days and slower pace that comes with this time of year.
Please note, our office will be closed Tuesday, July 4th, to celebrate independence day with our friends and families! We have you have a safe and wonderful holiday!
That said, we thought we'd reach out with a quick check-in sharing tips, information, and a collection of articles you might find helpful this time of year.
9 Outdoor Fire Safety Tips for Summer
Whether you love to grill, camp, or kick back around a backyard fire pit during the summer months, it's important to always be mindful of fire safety–especially when you consider that outdoor grills alone account for approximately 9,600 home fires each year.
To help you and yours stay safe, I've pulled together a quick list of nine outdoor fire safety tips to take with you as you head outdoors:
First and foremost, confirm that you are allowed to have a fire in the area you would like to start one. If there is a burn/fire ban, do not start a fire. (If you start a fire in such an area, you may face serious legal repercussions.)
Keep flammable materials at least 10 feet away from open flames. This includes paper plates, napkins, and decorations.
Keep children at a safe distance from outdoor fire pits and grills, explain the dangers of fire to children, and never leave a child unattended around a fire pit or grill.
Only use outdoor fire pits and grills that are in good condition.
Ensure outdoor fire pits and grills have a spark arrestor to prevent embers from flying and starting a fire.
Always keep a bucket of water or a hose nearby to douse the fire if necessary.
Never leave an outdoor fire unattended.
Only burn dry, seasoned wood in your fire pit. Green or wet wood creates more smoke and can start unwanted fires.
Avoid using lighter fluid or gasoline.
I hope these tips will help you stay safe this summer while enjoying the outdoors. If you have any questions or concerns, please don't hesitate to reach out.
Save The Dates!
Mark Your Calendar for July 4th fun!
Additional July Events:
July is UV Safety Awareness Month. And while you know the science, applying thick layers of sunscreen isn't always convenient in practice – especially if you have little ones to protect. While sunscreen is necessary, here are two ways to practice safe sunning that don't involve sunscreen: Invest in quality SPF clothing for the whole family and seek shade during the peak hours of the day when the sun's rays are the strongest, typically between 10 – 4 pm.
Amazon Prime Day is coming up! Find out when and where to snag the best deals from insiders who've done the hard work of scouring the bargains for you.
Meet Graham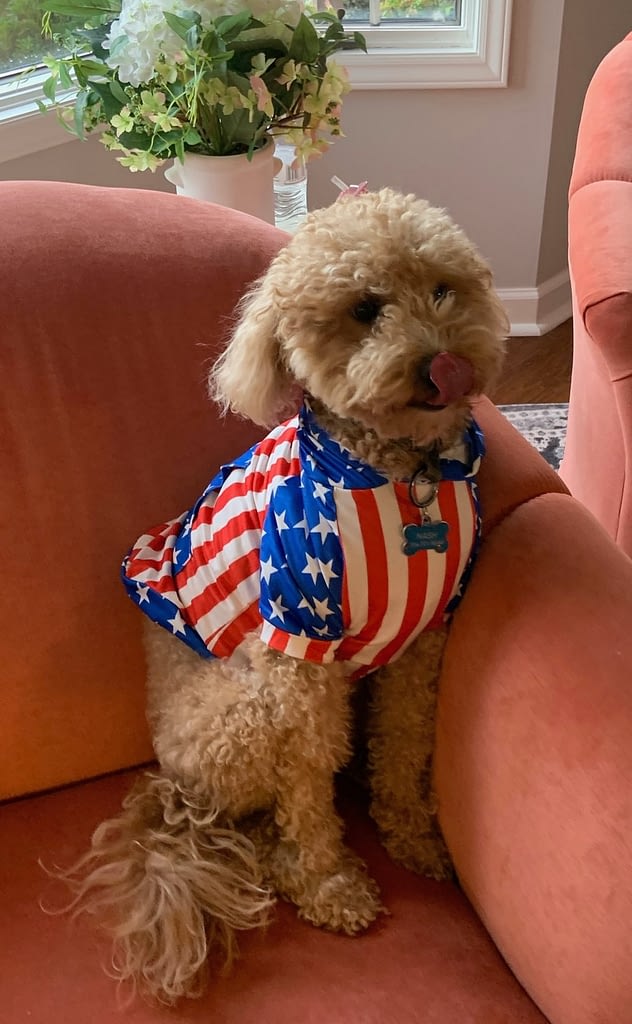 Graham is loved by Jared from our agency, and is ready to celebrate the holiday in style! Who could say no handing this sweet pup a bomb-pop?!?
Headed to the beach this summer? May through November is the turtle-hatching season in North Carolina! You can join turtle watch programs at these spots on the coast:
.. If we missed your favorite, let us know!
From Our Blog
Our blog is a fantastic resource for safety tips, information about insurance, and other helpful information that you can access throughout the year! Here are a few blogs you may have missed that are perfect for summertime!
The Top Resources for Severe Weather Safety, courtesy of Progressive Insurance
That's All!
Thanks for reading this month's newsletter! As always, if you have any insurance needs, questions, or concerns, please reach out. We're here to help.
We're Right Here Beside You!